Landolt Service offers non-programmable, programmable, CONNEX and HOUSEWISE thermostats. This allows you to have control over your heating and cooling system as you desire.
Take control of your high energy bills. The CONNEX or HOUSEWISE thermostats put you in charge of your energy savings with Touch-N-Go® programming simplicity. Control your system via smartphone, tablet or computer from anywhere (Wi-Fi enabled model only when connected to a Wi-Fi network).
Connex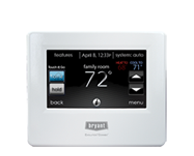 Register your CONNEX Control or download a MyEvolutionSM app for use on your smartphone or tablet device.
HousewiseTM

The Bryant® HousewiseTM Wi-Fi® Thermostat provides you and your family with comfort around the house and around the clock. You're just a touch away from having ultimate control over the way your heating and cooling system uses energy and gaining real money savings. The app is available for iOS or Android devices.